Attorney's Guide to AAMA/ASTM Testing Standards
Construction attorneys rely on expert witnesses to help support their cases --especially if they involve water infiltration and damage to the building envelope. When you consider that the building envelope contains doors, windows, curtain walls, roofs, and more, you can see how quickly things can get complicated. This guide breaks down the fundamentals of AAMA/ASTM testing standards and the importance of selecting a credible expert witness.
This exclusive guide provides insight on: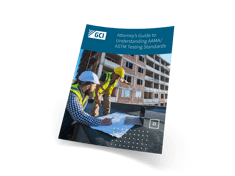 The Importance of Expert Opinions on Construction Defect Cases
What is Water Penetrating Testing?
Who sets Testing Standards?
What are AAMA & ASTM's Testing Standards?
Additional Resources for Attorneys
Complete the form to download the Attorney's Guide to AAMA/ASTM Testing Standards and use it to ensure that you're selecting the right expert for your next case.