THINGS HAVE CHANGED.
SO HAVE CATASTROPHES.
Filing a storm-related

claim can be complex.
Leverage the power of GCI's proven process.
We help you confidently navigate windstorm damage so you can focus on delivering the results your customers expect.
Specializing in everything building envelope:
Windows

Doors

Roofs

Exterior Walls
The Windstorm Damage Recovery Process
Guiding you through the recovery process after filing a damage claim and helping your customers receive the compensation they are entitled to.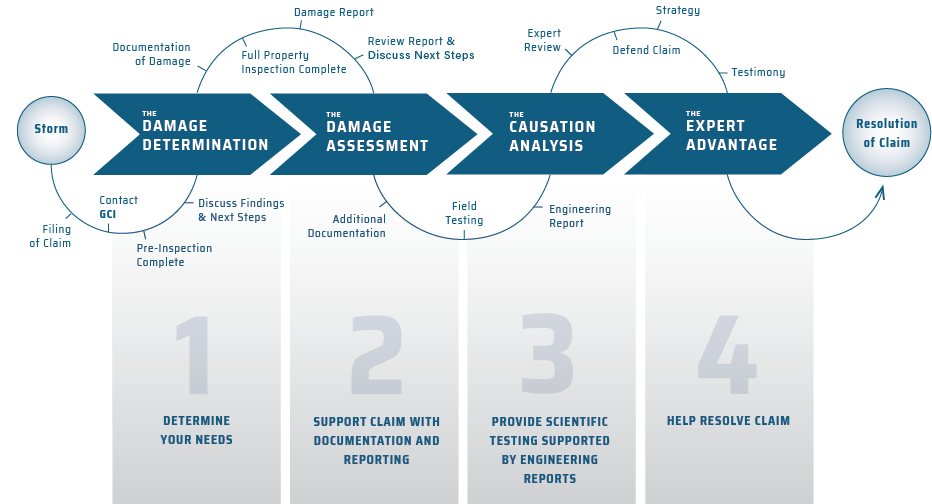 Take a look into each stage of a disaster claim, what you can expect during the process, and how GCI supports you during your time of need:
The Damage Determination
A preliminary review of noted damage determines the viability of a potential claim and what resources are needed to assemble and document the damage.
Discovery

Strategies

Scoping + Planning
The Damage Assessment
A thorough inspection is completed. Damage is appropriately documented in a detailed report to help support the filing of a catastrophe claim.
Inspections

Preliminary Reporting

Recommendations + Advice
The Causation Analysis
Documenting a disaster claim using best practices and scientific testing standards (ASTM, AAMA & ASCE) help support that the reported damage caused by a specific storm or disaster event.
Investigations

Destructive Testing

Engineering Reports
The Expert Advantage
Utilize expert review, investigation, and reports to defend a claim. GCI's expert witnesses can testify as needed at depositions, appraisal hearings, arbitration panels, and trials to help resolve a claim.
Expert Reports

Expert Witness Testimony

Claim Resolution